(540) 341-7758
Prosthetic Devices for All Your Orthotic Needs Throughout
Culpeper, Warrenton & Manassas, VA
Click on the image for larger view, additional devices available upon request.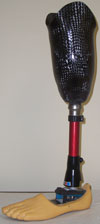 Below Knee Prosthesis (Below Knee Amputation)
Provides the restoration of function of missing limb (Ambulation, Sports)
Provides restoration of altered cosmetical appearance after amputation

Toe Filler (Partial foot or toe amputations)
Soft filler is incorporated into a custom orthotic for patients with forefoot or toe amputations
Prevents slippage and eliminates the need for custom-made shoes and aides in balance,
Available for partial foot/toe amputee to a Chopart-level amputee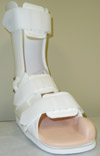 Toe Filler with AFO
Soft filler is incorporated in Ankle Foot Orthosis which accommodates patients who require the need of a more assisted device.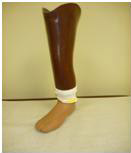 Symes Prosthesis
Provides a more natural gait pattern
Full weight wearing at distal end
Decreased energy consumption
Self suspension
Minimal growth disturbance
Co-Poly BK Prosthesis
The co-polymer socket and soft insert, align able pylon system, and lightweight energy-storing foot provide a lightweight,self-suspending functional prosthesis for the transtibial amputees
Amputee with a short residual limb who requires greater medial and lateral stability at the knee
Cosmetic finish
Lightweight suspension sleeve
Recommended for low activity patientís
Serving Northern Virginia Counties: Culpeper, Fairfax, Fauquier, Loudoun, Prince William, Rappahannock, Shenandoah, Stafford, Warren
Serving local communities of Bristow, Broad Run, Culpeper, Gainesville, Haymarket, Manassas, Marshall, The Plains, Vint Hill, Warrenton
Web Design by Cat's Eye Design and Powered by Moe Technologies, Inc.